Shopping Cart
Your Cart is Empty
There was an error with PayPal
Click here to try again
Thank you for your business!
You should be receiving an order confirmation from Paypal shortly.
Exit Shopping Cart
Nikki's Home from Home for Dogs

homefromhomefordogs.com


Established 2012 5 Star Rated

Leave your dogs with me for a worry free holiday,
Things are carrying on nicely.  We've got a lot of our regulars coming back for the summer, even some who have moved away.  Darling Betsy has just been back to us.  It was lovely to see her again. Raif has really settled down and has become a lovely dog, he and Bella adore each other.  Bella is still keeping everyone in check.  We've had the paddling pool up in the hot weather, it went down well, lots of splashing about

We've just returned from a lovely break in the new forest.   We took our 2 babies with us.  Bella loved the beach and swimming in the sea.  Raif just ran all over, with typical beagle tendencies.  He got a lot of attention because of his long legs.  Back to work tomorrow with day care, and boarders later in the week

The dogs are having really good fun in the snow.  They are loving their walks to the woods.  The beast from the east is really biting, but it doesn't stop their fun.  We've had to loan a couple of dogs coats, so that they can continue playing.  The snow doesn't stop our walks or play, we just put on extra layers and carry on

The dogs are really enjoying the snow, though thankfully we haven't got as much as in other areas of the country.  They chase each other through the woods, and almost knocked me down today.  We're a bit quieter at the moment, but are still ticking along nicely.  We're looking forward to Christmas, we have our regulars in, and have bookings for next year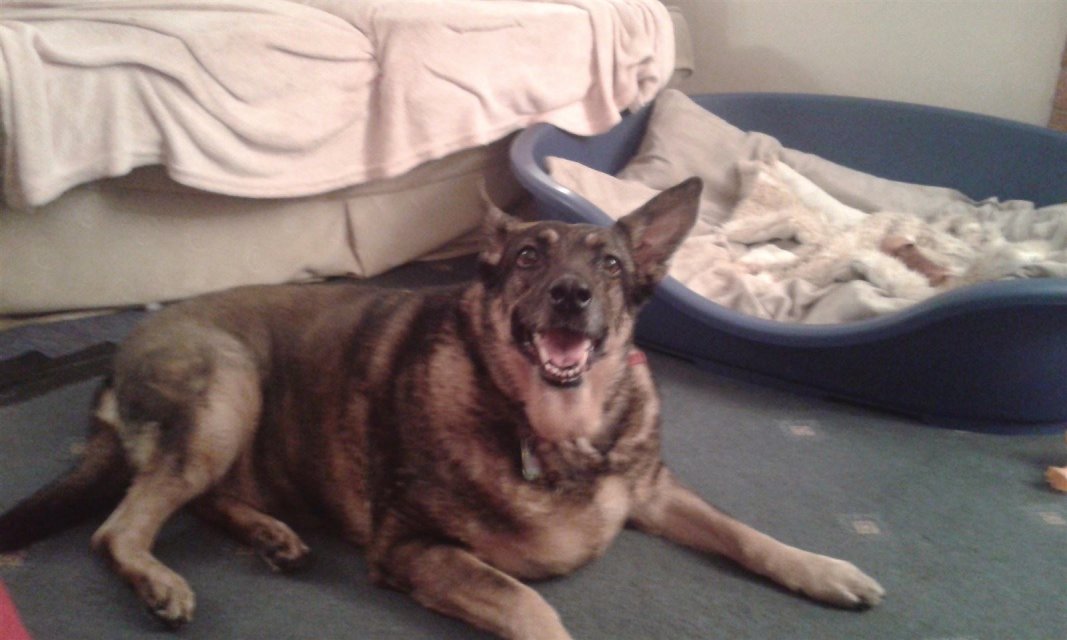 It's 2 long years today since we lost our darling Izzy, we still miss her, and often talk about her. Bella and Raif are getting on very well together, and have developed a strong bond.  Raif is very good at letting Bella fight his battles ( not that there are many).  Izzy would have kept him in check, she was a proper matriarch.  Her cross-stitch photo is coming along slowly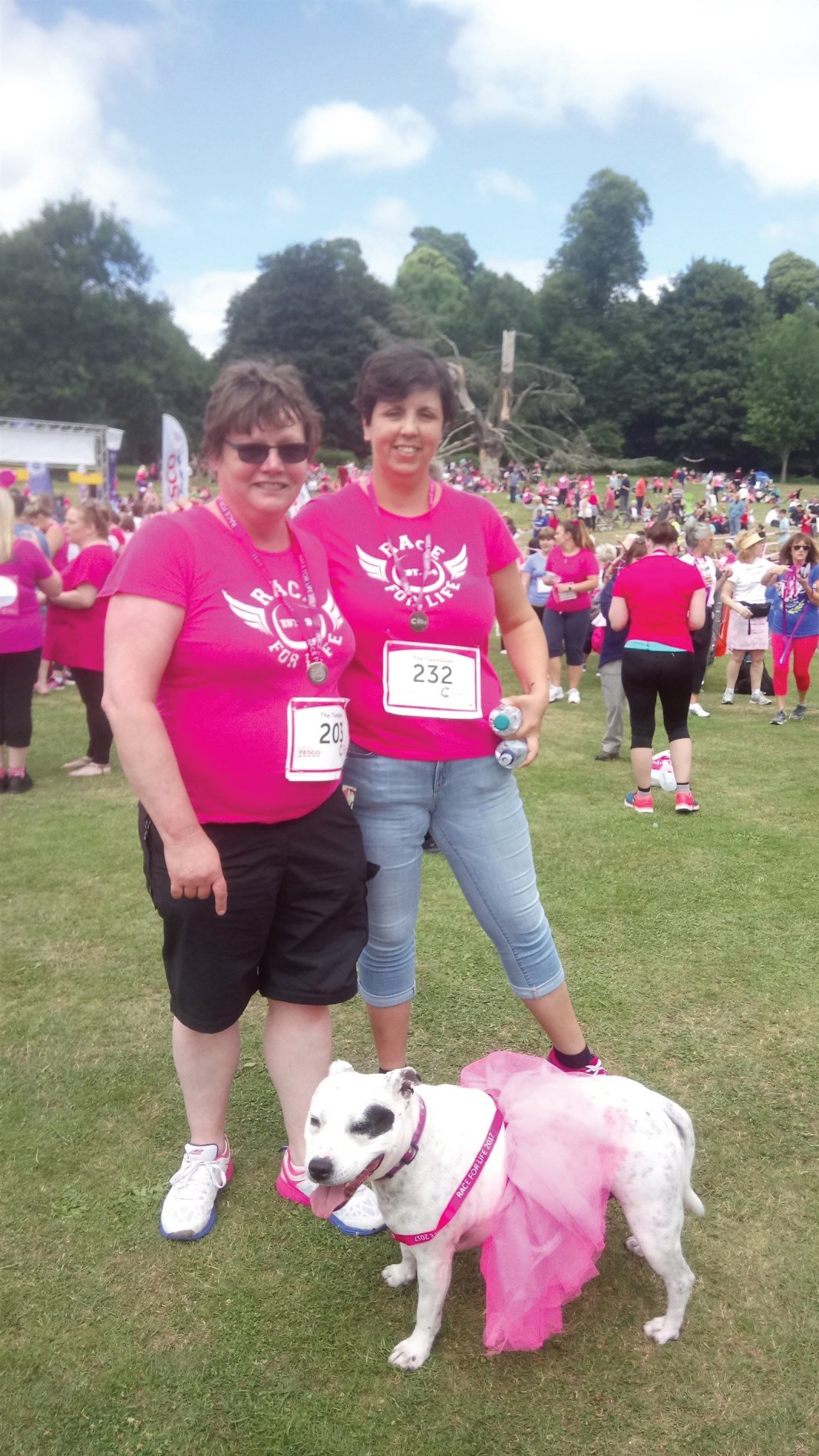 Bella and my niece and I had a good time on Sunday.  We did the Race for Life at Clumber Park, and have raised £200.  It was my 15th race.  We are still busy, and getting ready for a busy summer.  Most of our regulars are coming back for their holidays.  The puppies are still playing lots, and tiring each other out
Business is going well.  We had a fun day yesterday, 2 of the dogs rolled heavily in fox poo!  We had real fun bathing them (not) We've got yet another new puppy in who is very shy, he does like my knee and gives lots of nice kisses,  Bella is continuing to mother them all, Raif just plays with them all. I can't believe we've had him for over a year now, he's made a big difference to the family. We're continuing to get new business as well as my regular customers.  They all get on really well, people in the woods are amazed at how well behaved they all are and how they all get on together

Life is really chaotic at the moment.  We've got Finn the whippet puppy boarding  and he doesn't stop playing. He's even tiring our Raif out.  Bella steps in and helps at times.  We got really muddy this morning, lots of drying off required.  Plastic bottles are the toy of choice at the moment, they make a lot of noise at times.  it's so good to see all of the dogs getting on and interacting with each other. 

Business is continuing to go well.  We've just had another puppy come into daycare to replace Wallace,  who has moved to Sheffield.  He's a 22 week old Labradoodle, who unfortunately is cream coloured, which is fun when the weather is as it is just now.  I'm going through more towels than ever, my washing machine is never off.  He loves playing with Shinya.  I get worn out from just watching them, he also loves to chew Bella's ears.  Good job she's so laid back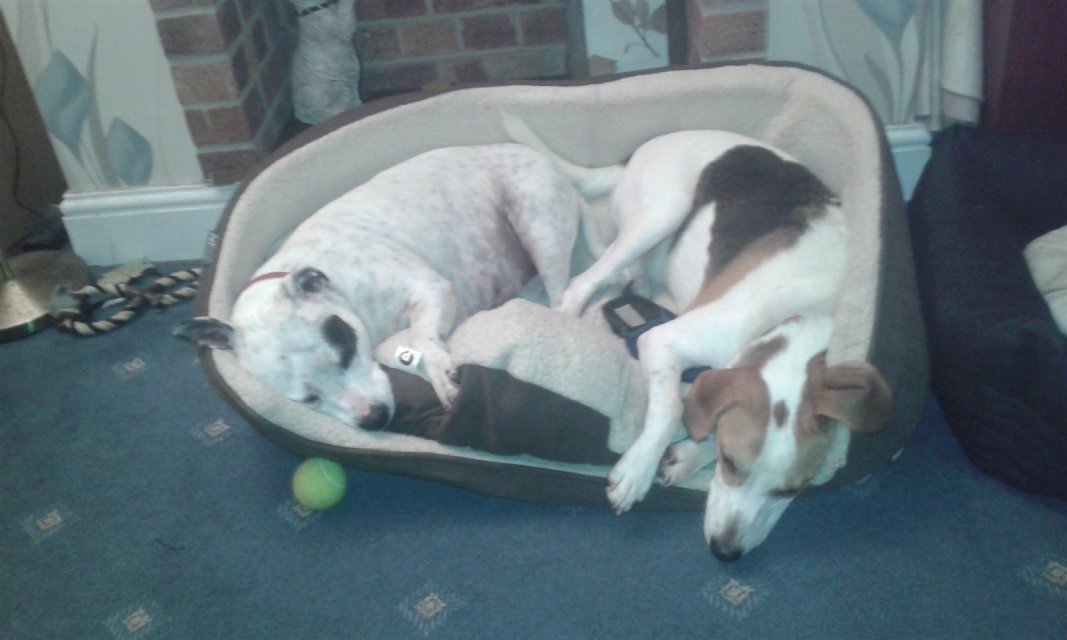 As you can see from the photo, Raif has settled in very well.  He and Bella get on like a house on fire.  He's becoming very loving and is a good addition to our family.  All the dogs love to play with him. We've got 2 new pups on 1 day a week day care, A 4 month old Whippet called Finn and a 4 month old black Lab called Wallace.  Both are really well behaved.  We're getting really busy in the summer.  the last week in July to the 12th August is already full
/